Balloon Payment Car Loans: Are They A Good Idea?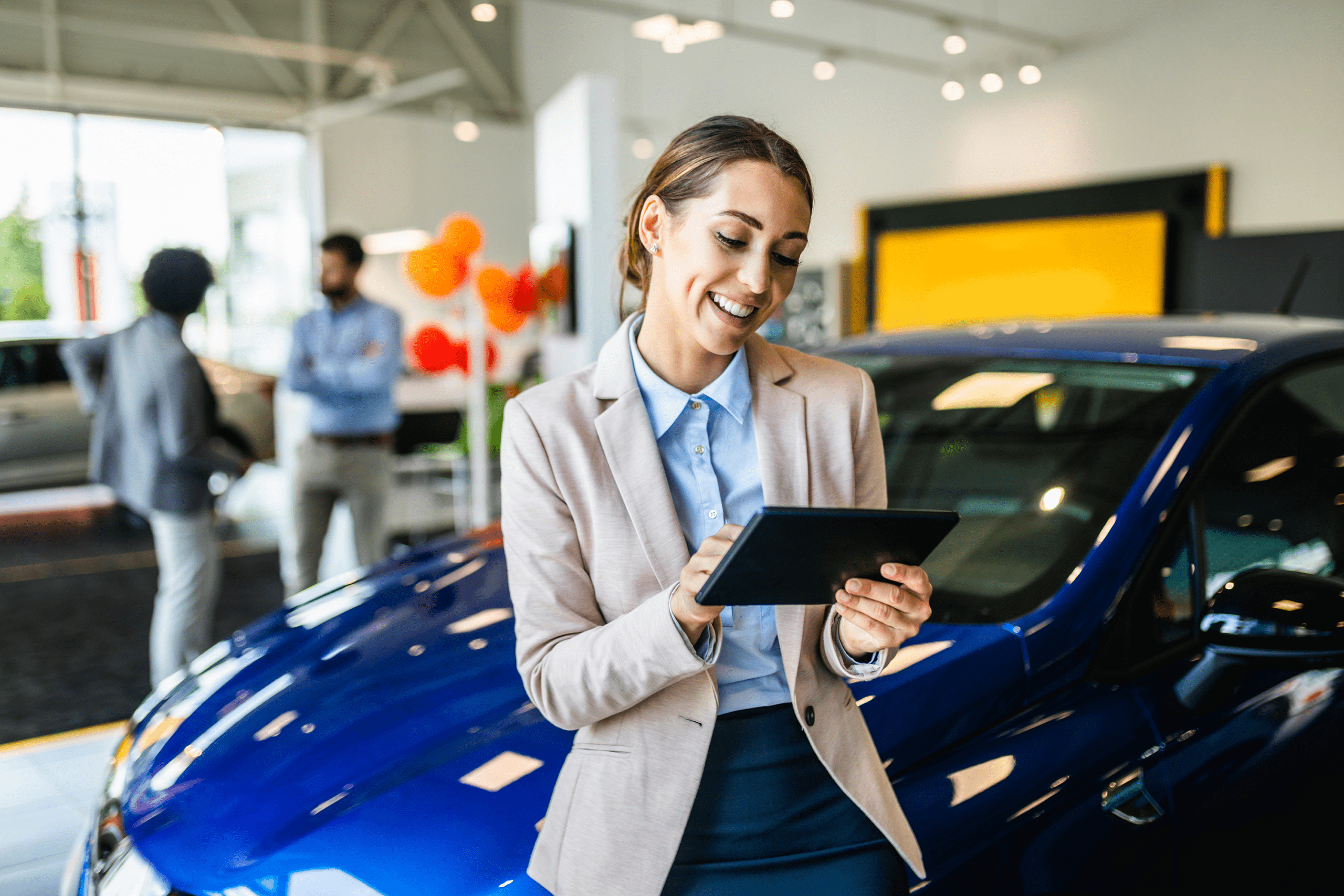 Australia's most accessible financial broker
Balloon Payment Car Loans: Are They A Good Idea?
Car loans are a significant investment, one you want to make sure is suited to your particular needs before you sign on the dotted line. Knowing what type of car loan is the best fit for you requires knowing what to look for and what to avoid. Balloon payments are one of these factors you should consider carefully before you make a choice. Find out whether balloon payment car loans are a good idea for you below.
Deciding whether you want a balloon payment will help you narrow down loan and lender options. And give you a better idea of the loan terms you're looking for.
Overview
What is a balloon payment car loan?
A balloon payment is an additional payment that you make at the end of your loan. When you have a balloon payment in place, your scheduled loan repayments cost less across the loan term.
Many lenders will offer optional balloon payments or include them as a requirement in the loan terms. You can also generally negotiate what percentage of your loan you would like the payment to be. This gives you more flexibility over your loan repayments and makes it easier to budget your expenses.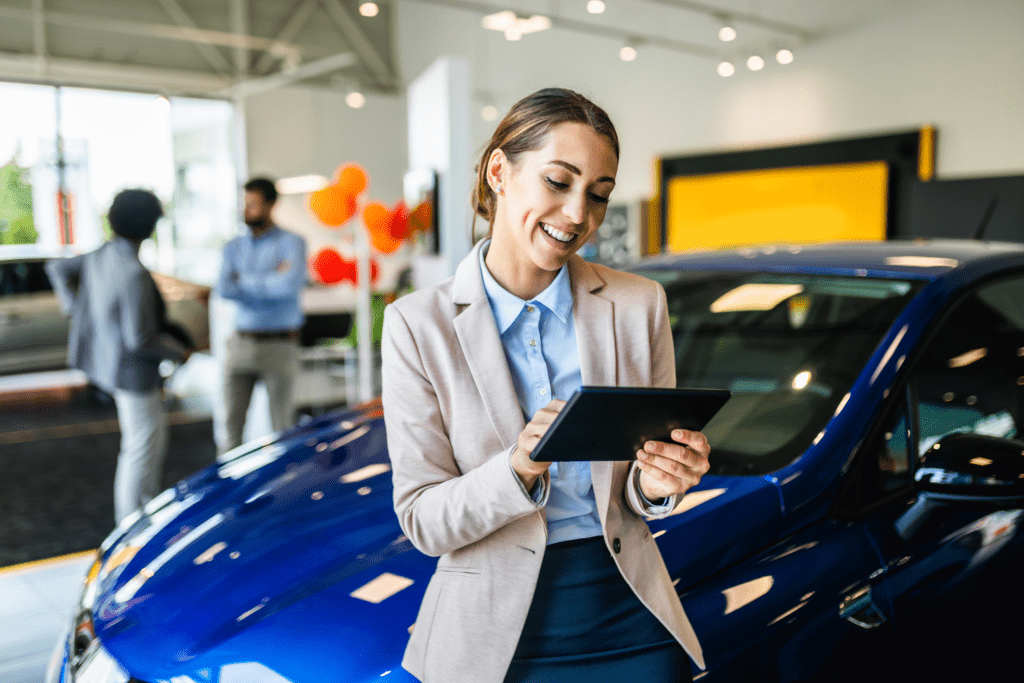 Is a balloon payment the same as a bullet payment?
Bullet payments and balloon payments are similar because both are paid at the end of the loan. But balloon payments are only a percentage of your loan amount, whereas bullet loans are the total loan amount.
With a balloon loan, you still pay off the bulk of the loan in instalments. But the only thing you pay in instalments for a bullet loan is the interest. The actual money you borrowed, often referred to as the principal amount, you will pay in one lump sum at the end of the loan term.
What other loans have balloon payments?
It's up to the lender to decide when a specific loan has a balloon payment attached. But generally, balloon payments are most common in business loans and car finance.
How balloon payments work with car loans
Having auto finance with a balloon payment attached can be broadly summed up in two steps:
You pay a reduced amount of money on your regularly scheduled payments.
You pay a percentage of your total loan amount in a lump sum that is due after your last scheduled repayment.
Car loans without balloon payment vs car loans with balloon payment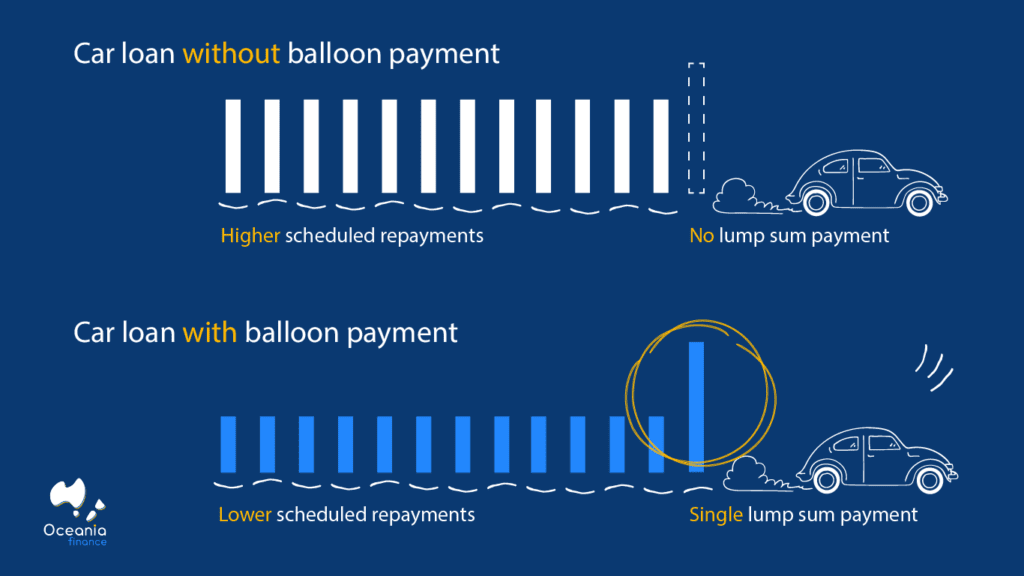 How balloon payments are calculated
Each lender calculates the residual amount you will need to repay differently. But we have included common examples below of what percentage you can expect to pay on your loan.
Balloon payments in Australia typically fall between 10-50% of the total loan amount. Often lenders will put a cap on the balloon payment amount for loans with longer terms.
Balloon payment car loan example
| Car loan type | Loan amount | Loan term | Balloon payment (30%) | Monthly payment |
| --- | --- | --- | --- | --- |
| No balloon payment | $45,000 | 5 years | N/A | $750 |
| Balloon payment | $45,000 | 5 years | $13,500 | $525 |
Assuming you were borrowing $45,000 on a 5-year loan, you could end up paying $225 less on monthly repayments with a balloon payment loan.
Balloon payment interest
Does a balloon payment have interest? Sadly, yes it does. And because of this, you will end up paying more interest on your loan – even though your monthly payments are lower.
This is because interest is calculated daily based on the outstanding balance. Your balloon payment will increase the total balance you have left to pay for the whole life of your loan. So, each month you will be paying slightly more on interest than if you had a car loan without a balloon payment.
Pros and cons of balloon payments on car loans
What are the benefits and drawbacks of getting a balloon payment car loan? Let's break it down.
| | |
| --- | --- |
| Pros | Cons |
| Lower scheduled repayment amounts | Large sum left over to pay in one lump sum payment |
| Able to afford a more expensive car | Need to manage cash flow effectively and save enough for the balloon payment |
| Potentially suitable for people with seasonal or other periodic cash flow boosts | Pay more on interest over the life of the loan |
| Frees up cash flow to use or invest in other things | Will need to refinance, sell your vehicle, or use other ways to pay your balloon payment if you cannot afford it. |
When is a balloon payment a good idea?
Here are some key situations when balloon payment car loans could be a good idea:
You want to purchase a more expensive vehicle but can't afford the higher scheduled repayments.
You have periodic or seasonal boosts in your income, like a quarterly bonus.
There are other, more immediate costs that you need cash for, like repairs or investment opportunities.
You prefer to free up your cash flow for now and save for the future residual payment.
What to do if you can't afford to make the payment
Here are four options for how to pay a balloon payment if you can't afford the outright cost:
Refinance – Pay off the cost of the balloon payments in instalments by refinancing your debt. Depending on how much you borrow, you can also use the loan to pay for other expenses.
Trade-in your vehicle – When you reach the end of your loan you may want to trade in your car for a newer model instead of taking ownership of your current one. The cost of your balloon payment can be included in this new agreement.
Sell your vehicle – You can sell your car and pay the balloon payment with the cash you get. Keep in mind that your car will depreciate in value over the course of the loan. So, in some cases, the cost of selling your car might not be enough to cover the balloon payment.
Negotiate with the lender – It is sometimes possible to negotiate with the lender when you are struggling to pay the full balloon payment sum. You might be able to modify the loan to extend the due date or make a partial payment now and pay the rest later. But this option is far less common than the previous suggestions.
Negotiating the balloon payment on your car loan
If you're still not sure if a balloon payment car loan is a good choice for you, reach out to a loan broker for personalised advice.
A personal car loan broker or business car loan broker can help you choose the best loan choices for your situation. They can also negotiate balloon payment terms with the lender on your behalf to get a loan agreement better suited to you.