Australia's most accessible financial broker
Can I Get A Loan For Dental Work?
Need to pay for dental treatment but finding it too expensive? Living in Australia, we all feel the pain of dental costs at some point. In fact, for many of us, the cost is a significant barrier to getting the dental care we need. But you don't have to live with the pain anymore. You can get a loan for dental work and keep your smile healthy and bright. Read on to find out how a personal loan can help you get the dental treatment you need without all the hassle.
Overview
What is a dental loan?
A dental loan is a type of secured or unsecured personal loan that helps you cover your dental bills. Once you're approved for a dental loan, the full sum will be deposited directly into your bank account. You can use this money right away or as needed to cover any dental expenses you have. Or, if you find you need it for something else, you can use it for any other expense too!
Your loan repayments will come in simple weekly, fortnightly, or monthly instalments. And will include any other rates or fees associated with the loan.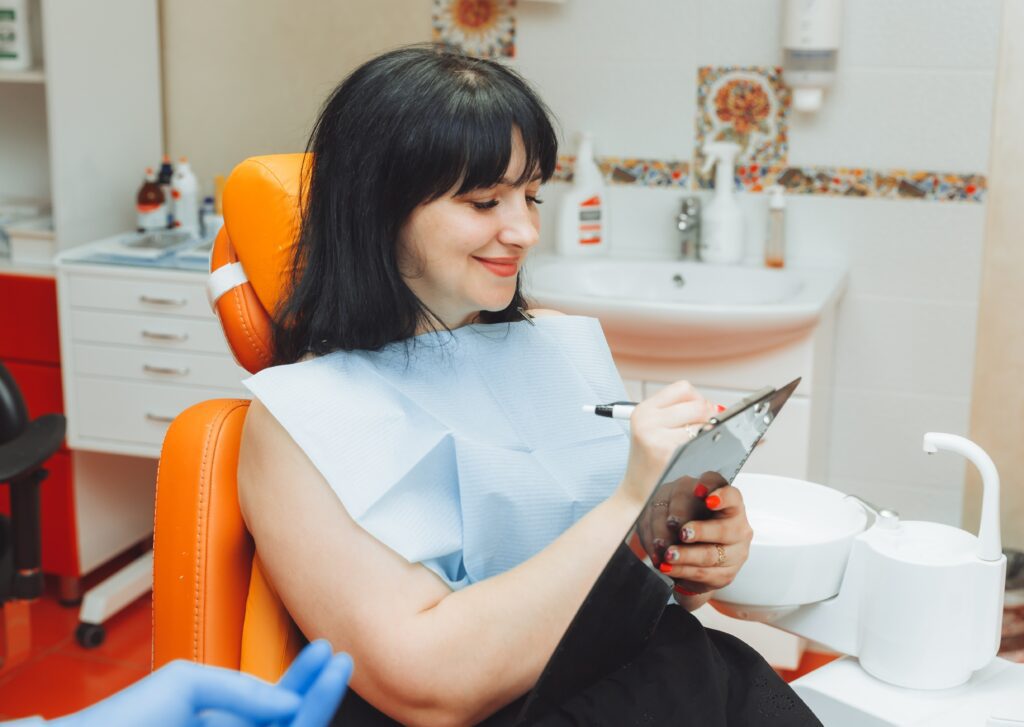 What will a dental loan cover?
You can use a dental loan to cover a range of dental procedures. From hygiene needs and cosmetic treatments to major surgeries.
Common uses for dental care loans include:
Fillings
Braces
X-rays
Wisdom teeth removal
Teeth whitening
Crowns
Root canals
Dentures
Extractions
So, can I get a loan for dental work?
Eligibility requirements differ between lenders, so there is no blanket guarantee on who can get a dental loan. But minimum eligibility criteria will typically include the following:
Be an Australian citizen or hold a valid visa
Be over 18 or older
Have not filed for bankruptcy
Have a regular income and proof of financial stability
When you apply, the lender will a perform credit check to assess your affordability. Responsible lenders are also required to conduct this assessment to ensure you can reasonably repay the loan over the course of its term.
If you have a bad credit score, don't worry – there's still a way to finance your dental work. Just speak to the team at Oceania Finance and we'll help you find the best loan to suit your circumstances.
How much can I borrow for a dental loan?
You can borrow up to $65,000 with a personal dental loan, depending on how much you need and your financial situation. Keep in mind that interest and fees will be added on top of this and that unsecured loans may incur higher interest rates.
How much do dental loans cost?
Dental loan costs are determined by a range of factors, like:
The loan term
Whether the loan is secured or unsecured
Your credit rating and history
How much you want to borrow
What lender you use
Any additional rates or fees
As a given rule, the more money you borrow, the more interest you will pay overall. So make sure you research the rates and fees, and terms and conditions before applying for a dental loan in Australia.
Secured personal loan
A secured personal loan means it is usually attached to a valuable asset. For example, a house or a car. This is a safer and less risky option for the lender and comes with a lower interest rate.
Unsecured personal loan
If your loan is unsecured, then there is no asset attached to the loan as collateral. This means that the interest rates can be slightly higher than a secured personal loan. Because the lender has no asset to claim if you are unable to pay the loan back.
How to save on dental work
One of the best ways to save on dental expenses is by reducing your need to have dental treatments. So we've compiled some top tips for maintaining good oral health and saving you money off your dental bill in the future:
| | |
| --- | --- |
| How to save on dental work | More info |
| Brush and floss regularly | Make sure you are taking preventive dental care to help maintain good oral hygiene. Regularly brush your teeth and floss both morning and night. |
| Limit sugar in your diet | Your choices of food and drink may be having a significant impact on your oral health. Processed food and drinks that are high in sugar will build up plaque and wear down enamel. Instead, snack on sugar-free options, enjoy a wide range of whole foods, and drink plenty of water. |
| Get regular check-ups | Getting regular check-ups every 6 months is a great way to know your dental health is on track. Check-ups also help you to catch any potential issues before they get worse. |
| Invest in dental insurance | Purchasing dental insurance can be a good option as they cover some or all of the costs for smaller dental treatments. |
| Consider visiting a student dental clinic | If you have a dental school near your area, this is a great way to get dental treatments at cheaper prices. Post-grad dental students or students in their final years of study will perform your dental service under the supervision of a qualified dentist. |
Finance your dental work with Oceania Finance
So now that you know the answer to 'can I get a loan for dental work?', you might be ready to start the application process. If you're feeling overwhelmed by the choices out there or you want the best deal on your loan, reach out to one of our friendly loan broker experts.
Our Oceania Finance loan brokers have over 20 years of experience helping Australians with fast and easy access to dental loans and medical loans. We pride ourselves on our fast, efficient service and tailored finance solutions across a wide range of credit ratings. To learn more about our dental loans, contact us online today.
Other FAQs: Can I get a loan for dental work?
When are dental loans a good idea?
If you aren't in the position to pay for dental treatment from your savings, dental loans are a quick and convenient way to cover any dental work. You will also get to choose from flexible repayment periods and secured and unsecured loan types.
Do you offer dental finance for braces?
Yes, we do! Our dental loans will help pay for any dental treatment. This can include small procedures such as teeth cleanings to major dental treatments like braces.
Can I use any medical practitioner?
As our loans are secured and unsecured, you will have the option to finance your dental treatment with any medical practitioner of your choice!